The Best Dog Doors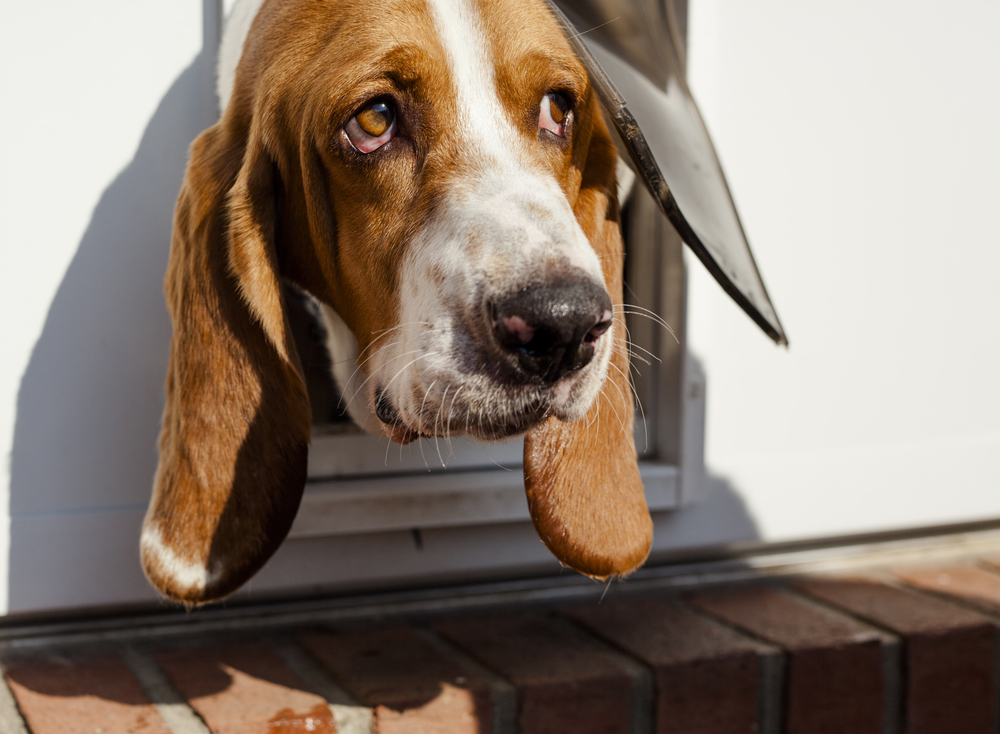 Constantly letting your pup in and out can really become a hassle, especially when you're working from home or have young children to keep your eye on. The proper dog door will provide much-needed convenience for you and will offer unlimited access to the squirrel-chasing and sunbathing that your pooch craves. Plus, a dog door can help drastically reduce or even eliminate accidents from puppies or pets that suffer from bladder or bowel control issues. So if you're ready to get rid of obnoxious doggie doorbells and unexpected messes, read on to discover our favorite dog doors on the market.
PetSafe Plastic Pet Door
With a classic design and simple setup, your furry friend will have the freedom they need in no time.
This classic-style dog door is incredibly durable and easy to install yourself. It's designed to be placed in your door, rather than the wall, and comes in four different sizes for you to choose from. The soft, vinyl flap will comfortably allow your buddy the freedom they need, while the magnetic closure will keep any insects or drafts out. We love that it comes with a snap-on closing panel to keep your furry friend safely indoors when needed. Plus, the frame is paintable which means you could spruce it up to fit your decor. This dog door is an obvious pick for pet owners who need a little more convenience in their life.
Pros:
Four different sizes allow dogs from 15–220 pounds to use the door
Comes with detailed instructions, hardware, and a cut-out template
Paintable plastic frame
Cons:
This is best for 1-pet households and moderate use
PetSafe Freedom Patio Panel Pet Door
Don't want to carve out a hole in your door or wall? We don't blame you. That's why we recommend this dog door insert for sliding patio doors.
Maybe you're a renter and can't cut into your door or wall, or you're a homeowner and you just don't feel like it. Either way, you'll be happy to know that there's a solution for you. The unique design of this detachable dog door will fit perfectly in most sliding door tracks. After choosing the right size and preferred color, simply slide the unit in and secure it with the included hardware. Made with durable aluminum and tempered glass, you'll rest easy knowing this dog door can withstand heavy use and harsh elements. It also comes with a lock for added security. All in all, we'd highly recommend this dog door if you need something temporary and hassle-free.
Pros:
Weather-resistant and shatter-resistant
Multiple sizes and color choices
Comes with a slide-in closing panel
Cons:
You will have a smaller door opening for yourself since the insert takes up a few inches
PetSafe Wall-Entry Pet Door
Made with double flaps and sturdy materials, get ready for a hole in a wall you'll actually enjoy.
If a door installation, sliding or otherwise, is simply not an option, then a wall-entry dog door is the way to go. All you'll need to do is use the provided template to cut into any interior or exterior wall, then position the unit inside the hole and secure it with the added hardware. With three sizes to choose from, the double flap design and slide-in closing panel of this dog door provides solid insulation and weatherproofing. So if a wall-entry is what you're looking for, this dog door would be a great option.
Pros:
Double-flap design
Compatible extensions kits are available to purchase separately
Cons:
Although the setup is fairly simple, the material of your home will affect the process
PetSafe Electronic SmartDoor
Choose which animals you want in and out with this collar-activated dog door.
This collar-activated dog door is definitely a game-changer, especially for those who live in rural areas. It comes with a small, waterproof SmartKey that easily attaches to your dog's collar. Once your pooch approaches the door, it will unlock automatically allowing them to enter, then it will lock again once the SmartKey is no longer detected. For added security, each SmartKey must be programmed individually to your SmartDoor, which means you can't use it at any other SmartDoor. This system is perfect for ensuring that other animals and critters are kept outdoors — unless, of course, your dog oh-so-graciously brings you one as a gift.
Pros:
A wall installation version is available with the purchase of a Wall Install Kit
Programmable for up to 5 SmartKeys
Cons:
The lock makes a somewhat loud sound that could frighten some pets
OwnPets Dog Screen Door
A dog door specifically designed for your screen door — who would've thought?
This dog door is perfect for when you want to enjoy a cool breeze without the insects (and inconvenience) from letting Fido in and out. Set-up is a snap and can actually be done without removing your screen door, as long as you have another person to help. It touts a locking mechanism that sits flush with the dog door (rather than needing a separate panel), making it that much more practical. Plus, we love the adorable pawprint design. So enjoy the fresh air while your pup enjoys their freedom with this dog door for your screen door.
Pros:
Made with high-quality ABS material and stainless steel
The company offers two sizes
Cons:
The magnetic closure is not the strongest and may be comprised in high winds
Frequently Asked Questions
How do I know if my dog will even use a dog door?
Any dog can use a dog door with proper training and a little encouragement. Treats, positive reinforcement, and patience will help to get your buddy used to their new door. There are also plenty of online videos for more tips and techniques.
Does a dog door make it easier for burglars to break in?
Small to medium dog doors would be difficult for an adult to fit through, but the large and extra-large doors might be big enough. With that said, a burglar seeing a door for such a large dog may be too afraid of encountering it, so your huge pooch and their huge door may actually be deterrents. If you're truly concerned with this issue then a collar-activated dog door might suit you best, or you might want to find a slide-in close panel made from steel.