The Best Puppy Toys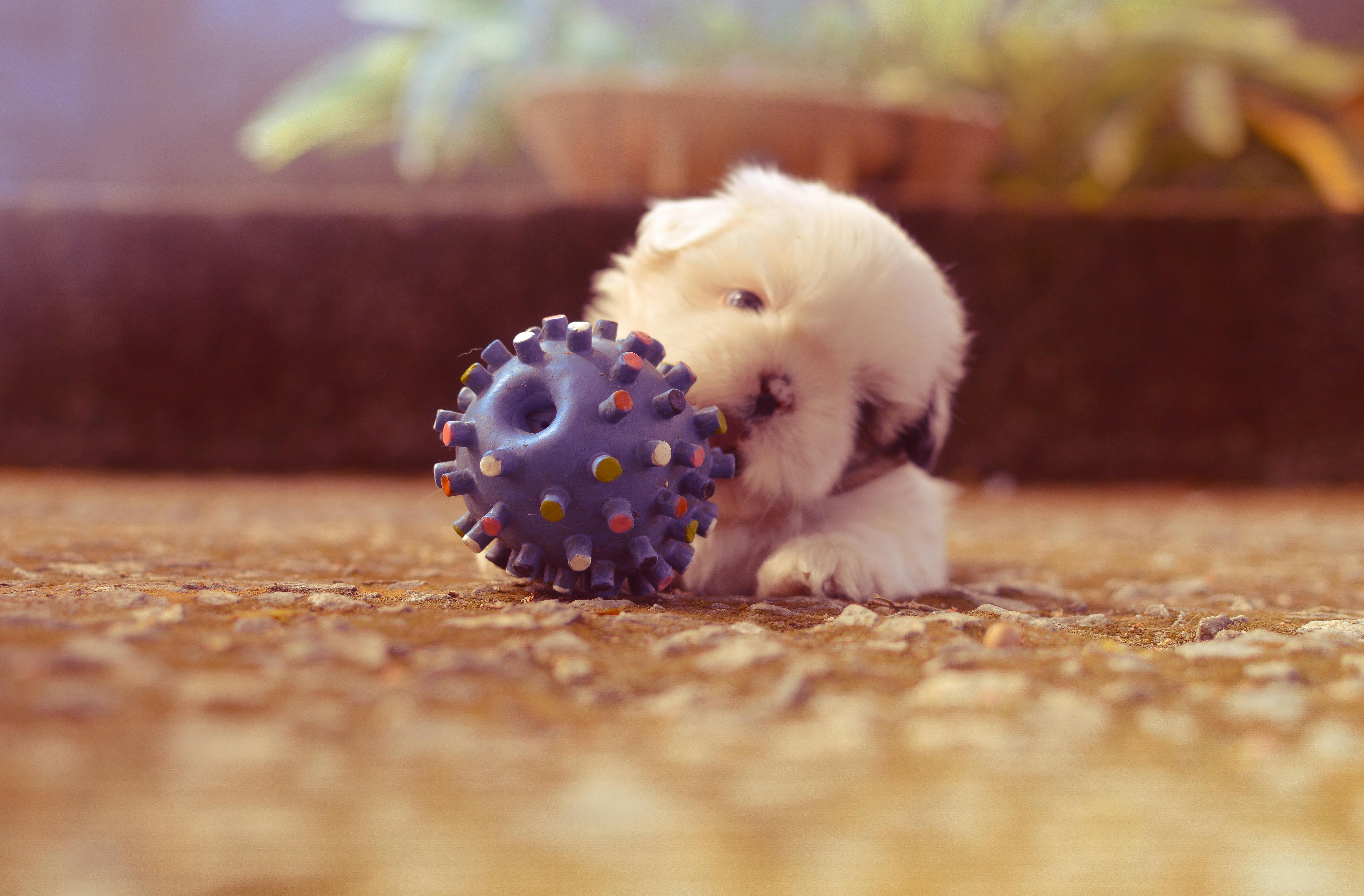 Puppies need to chew, and if you don't provide them something safe to chew on, you may not appreciate what they discover on their own. To help keep your home from getting destroyed, it's a good idea to provide your young dog with some puppy toys. While some toys help satisfy that need to chomp, others help to keep them from getting bored or lonely. Some puppy toys are designed for you and your pup to play with together. You can find a variety of puppy toys, each with its own merits, so we suggest trying a few to see which ones your pup likes the best. To help you purchase quality supplies for your canine sidekick, here are a few of the best puppy toys on the market.
SmartPetLove Snuggle Puppy Behavioral Aid Toy
This soft puppy toy can help your pup feel more secure in her new environment.
Are you struggling to crate train your puppy? This Snuggle Puppy toy has been helping to comfort pups for over twenty years. This soft toy has a "real-feel" heartbeat that pulses. You can set the pulse to go for either 8 or 24 hours. It also features a heat pack. These features are thought to help naturally calm your young dog by appealing to her instincts. Your puppy may even sleep better in her crate after being presented with this puppy toy. If this puppy toy gets a lot of love and winds up dirty, you can wash it in the machine on a gentle cycle — just be sure to remove the heart portion before you chuck it in.
Pros
Includes a heartbeat feeling and a heat pack to calm your puppy
May help encourage crate training
Machine-washable
Cons
Goes through batteries fairly quickly
Nylabone Puppy Dental Dinosaur Chew Toy
Your pup will enjoy chewing on this textured puppy toy, and you'll enjoy not having to smell stale puppy breath.
Puppies need to chew, and this puppy toy encourages them to do just that. The massaging nubs featured on this toy will massage your pup's sore gums. We really like that because of the unique dinosaur shape, the whole toy is easy for your puppy to hold onto. It has a delicious chicken flavor that will keep your pup coming back to it over and over again. This is a non-edible puppy toy made from nylon. Because the toy is fairly small, once your puppy reaches 25 pounds, the company recommends upgrading to a larger size or a different chew toy.
Pros
Massages gums as pup chews
Enticing chicken flavor
Cons
It's small, so once your dog is above 25 pounds, it won't be of much use
Nylabone Just for Puppies Petit Ring Bone Toy
If your puppy's preferences are simple and her priority is flavor, this is the pick for you.
While some of the more elaborate toys sold today have their advantages, sometimes simple truly is better. So the thinking goes with this ring-style bone toy from Nyalbone. Designed to help improve your dog's oral hygiene, this nylon-based, chicken-flavored toy is strong enough to withstand the force of tough little puppy jaws. By offering such a tough toy, you're giving your pooch a non-destructive outlet for that chewing instinct. Oh, and the shape of the ring around the center makes it that much easier for your pup to get a good hold of the toy.
Pros
Very affordable
Excellent for puppies in the teething stage
Cons
Because it's made of nylon, it could be dangerous if your dog swallows a piece of it. Be sure to occasionally examine it to be sure it's not falling apart
Though it's strong, it's designed for small puppies, not large breeds
Kong KP32 Puppy Activity Ball
If you don't want your puppy to get bored, this stuffable activity ball can help.
Are you looking for a toy that will keep your puppy busy? This activity ball is a great option. You can stuff it with your pup's favorite treat, such as peanut butter or a dog biscuit. The treat helps motivate your puppy to keep playing with it, trying to get their reward. This puppy toy is made from soft rubber, which can soothe your puppy's teeth and gums. It is designed for puppies up to nine months of age or up to 35 pounds. This toy comes in either pink or blue.
Pros
Can stuff it with a treat
Puppies are motivated to keep playing with it
Soothes your puppy's gums
Cons
Trying to find treats that fit inside can be a challenge, but you can buy ones that are designed for this brand of toys
Frequently Asked Questions
What qualities should I look for in puppy toys?
Puppy toys are going to be in your puppy's mouth, so they need to be safe for them to chew on. Look for natural and non-toxic materials. You also want durable puppy toys. They should be made from materials that are going to withstand chewing. There are several different types of puppy toys, and not every dog will enjoy all of them. You may need to experiment with a few to see what ones your puppy enjoys the most.
Are puppy toys safe for puppies?
You should discuss safe puppy toys with your vet, to make sure the toys you select are a good fit for your puppy. It's always a good idea to supervise your puppy when they are playing with puppy toys. That way you can watch for problems and make sure they don't accidentally eat the toy. Some puppies chew more aggressively than others, so you want to make sure the toys you let your pup play with are strong enough for them. Your puppy may outgrow some puppy toys. When you purchase one, check out the age and weight recommendations. That way you don't let your puppy play with a toy that is now too small.
How do I clean my puppy's toys?
Your puppy's toys can get pretty grungy. Regularly cleaning them is a good idea. When you purchase puppy toys, think about how you will clean them. Some soft toys can be cleaned in the washing machine. Hard toys can often be soaked in a solution of fifty percent vinegar and fifty percent water. Once they've soaked, make sure you rinse them thoroughly. Before giving them back to your puppy, make sure the toys are completely dry.