The Best Elevated Dog Bowls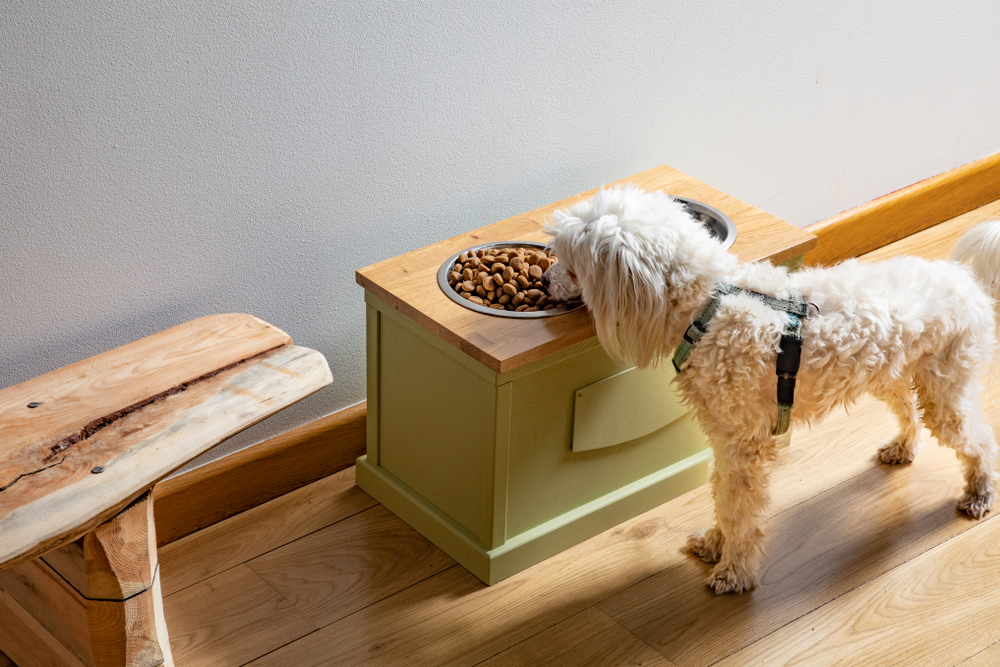 If you're looking to upgrade your dog's mealtime essentials, an elevated dog bowl is an excellent option to consider. They have health benefits for your dog and they help keep your home a little bit cleaner. The best elevated dog bowls are reviewed below, so you can choose the one that's best for you and your pup.
Pet Fusion Water-Resistant Elevated Dog Bowls
This elevated dog bowl will allow your dog to eat easily, and it'll look nice in your home as well.
Your dog's food and water dishes are likely something you keep in your main living space. When you're choosing a larger, elevated stand to put them in, you will want to make sure it looks nice in your home. This stand is made from smooth, natural bamboo and finished with a beautiful, water-resistant white color. The food-grade stainless steel bowls that come with it are simple and stylish (as well as beneficial to your dog's health).
This set of elevated dog bowls is built with anti-slip feet, so it'll stay in place while your pup eats. It also has an anti-slip lining around the bowls so that the bowls will stay in place as well.
Pros:
Looks nice in your home
Water-resistant
Anti-slip feet and bowls
Cons:
This stand is not adjustable, but you can choose between two different heights when you purchase it
Pet Zone Designer Diner Adjustable Elevated Dog Bowls
This is the perfect stand to feed your dog comfortably as they grow.
If you've got a puppy who still has some growing to do, this is the perfect elevated dog bowl for them. Its height is adjustable, so you can change the height as they get bigger to keep them comfortable throughout their whole life. With other stands, you may need to buy a new version when they grow, but this one can grow with your dog.
This elevated dog bowl has a simple look and comes in three colors: black, pink, and blue. It comes with two stainless steel bowls, and it folds up for convenient storage when it is not in use.
Pros:
Adjustable height
Comes in three colors
Folds up for easy storing
Cons:
Made of plastic and may not be quite as sturdy as metal or wood options
Super Design Mess Free 15 ° Slanted Bowl for Dogs
This elevated dog bowl is built to help your bulldog eat comfortably and reach all of their food.
If you have a bulldog, you may notice that they have a hard time getting the food from the edges of their bowls. This elevated dog bowl is designed to help with this challenge. Its 15-degree tilt allows bulldogs, and all other types of dogs, to comfortably eat every last piece of their food at mealtime.
This elevated dog bowl is designed to not spill, tip over, or slide across the floor as your dog eats. It comes in small, medium, large, and extra-large sizes, so you can pick the best size for your pup.
Pros:
Allows bulldogs to eat all of their food comfortably
Non-spill and non-skid
Affordable price
Cons:
This is just one bowl, so you will need another dish for your dog's water
Neater Feeder Express Elevated Dog Bowls
If you're tired of cleaning up water splashes and food chunks after your dog's mealtime, this may be the perfect product for you.
This is the perfect elevated dog bowl set for messy eaters. It is built with a large shield to block all those water droplets and food chunks that you would normally find all over the floor. It even has a catch basin, where all of that water and food lands, and it is easy to dump out after your dog eats.
This product comes in multiple sizes, so you can choose the height that is best for your dog. The bowls and the upper and lower basins that catch the messes are dishwasher safe. You can also buy slow feeder or polar bowl inserts for your dogs that require a little something extra while they eat or drink. The slow feeder accessory helps dogs who eat too quickly, and the polar bowl gives your dog ice-cold water all the time.
Pros:
Keeps messes contained
Easy to clean
Customizable
Cons:
Frequently Asked Questions
Q: What's different about an elevated dog bowl?
A: When a dog eats and drinks from a dish that's sitting on the ground, they have to bend over slightly. This action puts extra pressure on their neck, shoulders, hips, and joints, which can cause pain and other problems later on. Elevated dog bowls erase this issue, and they may also help reduce GI issues in dogs. Elevated dog bowls can even help contain the mess that often occurs when dogs drink water because they are at a comfortable height where they're more in control of their eating style.
Q: How do I know the right height for my dog?
A: Elevated dog bowls should reach the lower part of your dog's chest for the most comfortable feeding. You can measure the distance from the floor to your dog's lower chest and order a feeder with a similar height, or you can choose a feeder size by the general size of your dog: small, medium, or large.
Elevated dog bowls are an excellent choice for keeping your dog comfortable and containing messes during feeding time. Make sure you choose a set that will look nice in your home, is the right size for your dog, is easy to clean, and helps with some of the easting challenges or preferences your dog may have. You and your dog will be happy to have an upgrade when the next mealtime comes around.