The Best Water Bottles for Dogs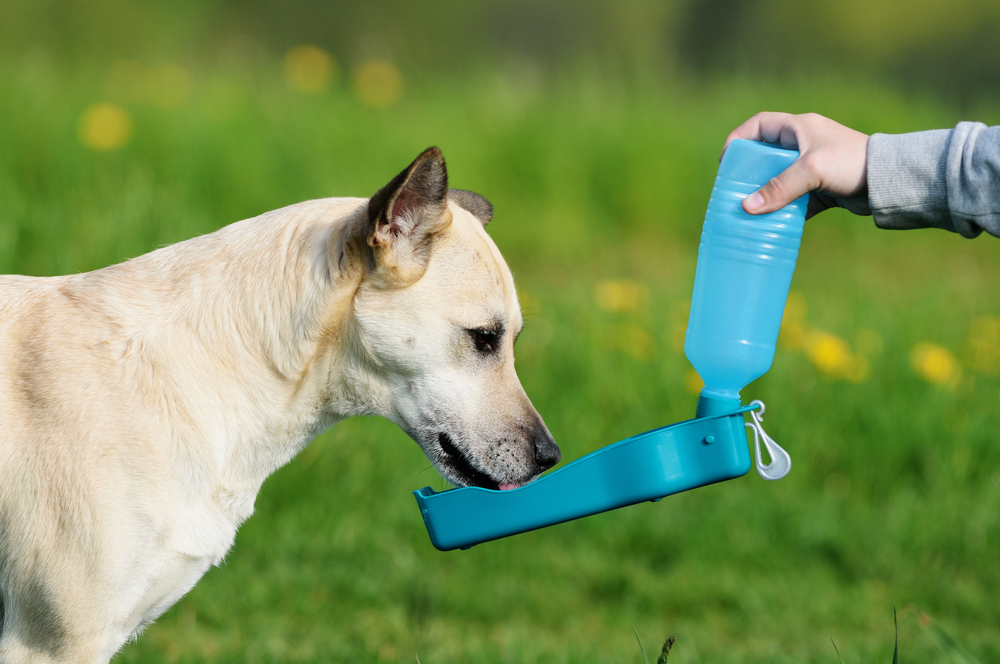 Hydration is vital for everyone — including your furry friend. The best way to prevent a thirsty pup when you're away from home is with a quality water bottle made specifically for dogs. These innovative gadgets are truly a game-changer for any pet parent. Dog water bottles can put a stop to the infamous, messy, and wasteful hand-cupping method, and you won't need to pack separate containers and bottles when going on a trip. That said, actually finding the right one is not as easy as it sounds. You'll need to consider factors like capacity, materials, and bowl design when choosing the right bottle for your dog. To help you out in your search, we've put together a list of some of the best water bottles for dogs out there.
MalsiPree Dog Water Bottle
This leakproof and hassle-free water bottle for dogs will quench the thirst of any pup.
This water bottle for dogs by MalsiPree is designed with high-quality food-grade materials and a silica gel seal to prevent any leaks while you're on the go. The standard size holds 12 ounces of water, but you can choose to upgrade to 19 ounces for dogs that tend to drink a bit more. There is a nifty locking feature that allows you to control when the bowl starts to fill. We also love that any unused water can easily go back into the bottle with just the press of a button, ensuring no water goes to waste. This dog water bottle is super convenient, durable, and slim — all at the right price.
Pros:
Leakproof design
Will fit in most car cupholders
Great value for the price
Cons:
The drinking bowl is better for small to medium-sized dogs
Lesotc Pet Water Bottle
If you take your furry friend anywhere and everywhere, this compact water bottle might be the one for you.
This is one of the most uniquely designed water bottles for dogs that we've seen. The silicone cap flips up to create a drinking bowl. When your dog is ready to drink, you squeeze the bottle for the bowl to fill up, and simply flip it back down over the bottle when it's time to continue your hike or walk. There is a locking mechanism to prevent accidental spills or leaks if the bottle gets squeezed while inside your bag. Plus, each part of the bottle is detachable, which makes cleaning a breeze. This is, hands (or paws) down, one of the best dog water bottles for travel out there.
Pros:
Comes with a carabiner to hook it onto your bag
Capacity tick mark ensures you don't over or under fill the bottle
BPA-free materials
Cons:
It can be a bit difficult to turn the locking mechanism
Upsky Dog Water Bottle
This easy-to-use water bottle was designed with little pals in mind.
Some water bottles for dogs might be bigger than what you actually need, taking up unnecessary space in your car or pack. Thankfully, this compact water bottle by Upsky can do the job. It can hold up to 15 ounces of water, has a sleek design, and is easy to use. It was mainly created for puppies, small dogs, and some medium-sized dogs, so keep this in mind when purchasing. It sports an internal rubber ring as well as a locking button, so you won't need to deal with random dripping or leaks. We would recommend this water bottle for those who need something smaller without comprising quality.
Pros:
Convenient hand sling to easily carry the bottle around
Comes in two different colors
Cons:
May not be the most durable, so use it with care in rugged environments
Tuff Pupper PupFlask
Dogs come in all sizes, and so should their special water bottles. If you have a big pooch, this bottle will be a great addition to your arsenal.
This stainless steel flask from Tuff Pupper is perfect for your big baby. Depending on the size you choose, it can hold either 27 ounces or a hefty 40 ounces of water. Touting a reversible design, the thick, leaf-shaped bowl is larger than other water bottle bowls we came across, making water breaks simple for you and your pooch. The quick-release button allows you to control how much water you pour out and pour unused water back in. Plus, the stainless steel material keeps the water nice and cold. So if you're looking for a large, durable, and functional water bottle for your furry friend, this one will do the job.
Pros:
Durable, stainless steel material
Extra-wide drinking cup
Dishwasher-safe
Cons:
We wish this water bottle had a strap or hook for a carabiner
Asobu Dog Water Bottle
This bottle gives you a hygienic way to share a cold drink of water with your buddy.
This large, insulated water bottle has a design that allows both you and your dog to enjoy a fresh drink. The 33-ounce bottle has a dog bowl that screws onto the bottom, enabling you to drink from the top and pour some into the bowl for your best friend. It has a convenient handle that would allow you to use a carabiner to clip to your bag, and the bottle's mouth is wide enough to fit ice cubes into. Plus, the bottom of the bowl has an anti-slip base to prevent it from sliding around when being used. So if you like the idea of bringing just one water bottle for both you and your dog, we recommend this one from Asobu.
Pros:
Vacuum insulation keeps water cold for hours
BPA-free construction
Made from durable materials
Cons:
This bottle is not dishwasher-safe, so be sure to handwash it when needed
Frequently Asked Questions
Why would I need a dog water bottle? Can't I just pour water from a normal bottle into my dog's mouth?
This would be tricky, considering dogs do not drink water the way humans do. Just like at home, dogs should drink from a bowl or cup so they can properly lap up every drop. Water bottles designed for dogs will have some sort of bowl-like attachment for this very reason. So if you want a hassle-free way to give your dog water on the go, a water bottle for dogs is the way to go.
What should I consider when purchasing a water bottle for my dog?
You should consider things like ease of use, materials, capacity, and leakproof design elements when purchasing a dog water bottle. You'll want the experience to be as convenient and easy as possible, so looking for a one- or two-step bottle is key. If you need a bottle specifically for hiking in warm environments, you'll be better off with materials like stainless steel rather than plastic. You should also consider how much water the bottle can hold and determine the best size for your needs. Finally, look for features like rubber seals or locking mechanisms to ensure the bottle does not leak.