The Best Pet Gates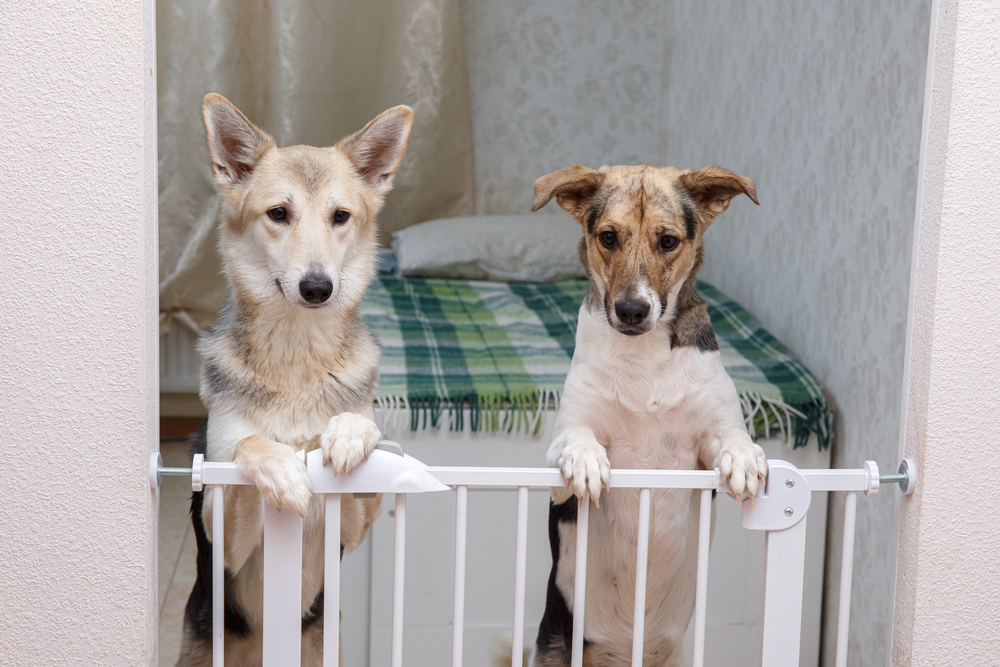 We know you love your fuzzy little friend. We also know it's hard to keep them cooped up. Crate training may be essential for emergencies. But what can you do when you have a well-trained dog that you just want to keep in one area when you aren't home? On the other hand, what can you do if you need to keep an energetic puppy confined while you're busy? The answer to both is simple; get a gate. They separate rooms and keep your furbaby right where you want them while still giving them plenty of space to play and lounge. In fact, we want to help, which is why we've brought you this list of the best pet gates.
Mypet Portable Pet Gate
Mount this gate in any doorway for a sturdy barrier from room to room.
Sometimes, all we really want is a product that's straightforward and easy to use. When it comes to safety gates for pooches, that's the Mypet portable pet gate. It's made of durable plastic, which makes it safe and secure enough for even large dog breeds. Meanwhile, cute little paw print accents and the soft gray colors help it blend in well with any decor. What we really appreciate is how versatile it is. It can stretch to fit any door between 26 and 40 inches wide, which means moving it from room to room isn't an issue.
Pros:
This gate is pressure-mounted with rubber bumpers and won't damage your doorframes
It's affordable
The ergonomic handle is curved, so using it is easier than ever to install
Cons:
It's harder to remove than it is to install
This gate is just under two feet tall, which makes it easy for taller dogs to jump over it
Petmaker Foldable Free-Standing Pet Gate
Because this gate is so compact, it's perfect for small dogs.
Itty bitty dogs, such as Chihuahuas and Yorkies, don't need the biggest gates. They just need something that will create a boundary for them, which is where the free-standing wooden gate from Petmaker comes in. Easily set it up across doorways, use it to block off fireplaces and other dangerous areas, and even use them to keep your pup on your deck. There are no locking mechanisms or hardware to figure out, so there's really no end to the versatility.
Pros:
When not in use, this gate folds up for simple storage
It's available in several sizes and styles, which means you can find one to match your decor
We love using this gate to teach puppies and small dogs where they can and can't go
Cons:
Dogs can knock it over if they really try
There's no way to secure it to the wall or door frame
Pawland Extra-Wide And Tall Gate
Use this gate to separate or divide nearly any space you need in order to keep your pooch safe.
When versatility is what you really want, you can't beat this fantastic gate from Pawland. It's both extra-wide and extra-tall. Also, it has a walk-through feature so that, once it's set up, you don't have to move it for any reason. The six panels are completely freestanding, so you can configure them in many different ways. For example, you can make it into a playpen-like pen, or you can stretch it across a large entryway or space. No matter how you choose to use it, it will do a great job of keeping your doggo safely where you want them.
Pros:
It's available in two colors, so you can pick the one that best fits your style
There are support feet included for your convenience
The wood framing and metal wires make this a durable choice
Cons:
Fairly expensive
It's heavy and hard to move
Cumbor Auto Close Safety Gate
This gate is an excellent choice when you need something sturdy, yet easy to walk through.
If you have a large breed of dog, then you know it can be difficult to keep them contained. That's where this Cumbor safety gate comes in. It only takes a few minutes to install. And, once it's in, you don't need to worry about your dog getting through. In fact, it takes up to 150 pounds of force, which makes it ideal for dogs of all sizes. The walk-through feature is wide enough to get through comfortably without having to turn to the side or risk tripping over, making it a comfortable option.
Pros:
This gate won't damage your doorframe because it's pressure mounted instead of installed with hardware
There are extensions you can add to make it fit doors of different widths
Its steel frame ensures it stays durable and strong
Cons:
Very small dogs can get stuck between the bars
Another pricey pick
Yoofor Retractable Gate
If you want a soft barrier that won't get in the way, this is the one for you.
Do you want the convenience of a gate without constantly needing to install and uninstall it all the time? If so, you may appreciate the retractable gate by Yoofor. It's made of strong mesh and durable plastics, so it easily keeps dogs of all sizes contained. Owners of small dogs like it because their pup can't get stuck while those with large dogs appreciate the height. When you aren't using it, the mesh retracts into the sturdy base, and when you need it again, you simply pull it out and attach the clips. Super simple.
Pros:
This gate comes with two sets of hardware so you can move it between two doors without reinstalling it
It's soft, which makes it safer than hard-sided gates
The entire thing is compact and retractable, so you can keep it out of the way as needed
Cons:
You need to screw it into the doorframe, so it takes a bit of time to set up
Frequently Asked Questions
Why would you need a pet gate?
Pet gates are convenient for a variety of things. For example, if you're training your dog to stay out of the kitchen while you cook, you can set up the gate every time you're in there so they learn not to go in. On the other hand, when you won't be home or you can't watch them closely, you can simply set up a couple of gates to keep them contained in one room for their safety.
How many gates do you need for your home?
How many gates you'll need will be determined by how you plan to use them. Personally, we like to have at least two. That way, if you need to block two doors at once, you always have the option. Some people only get one because they only plan to use it for keeping their dog in one room that has one door.