The Best Indoor Dog Fences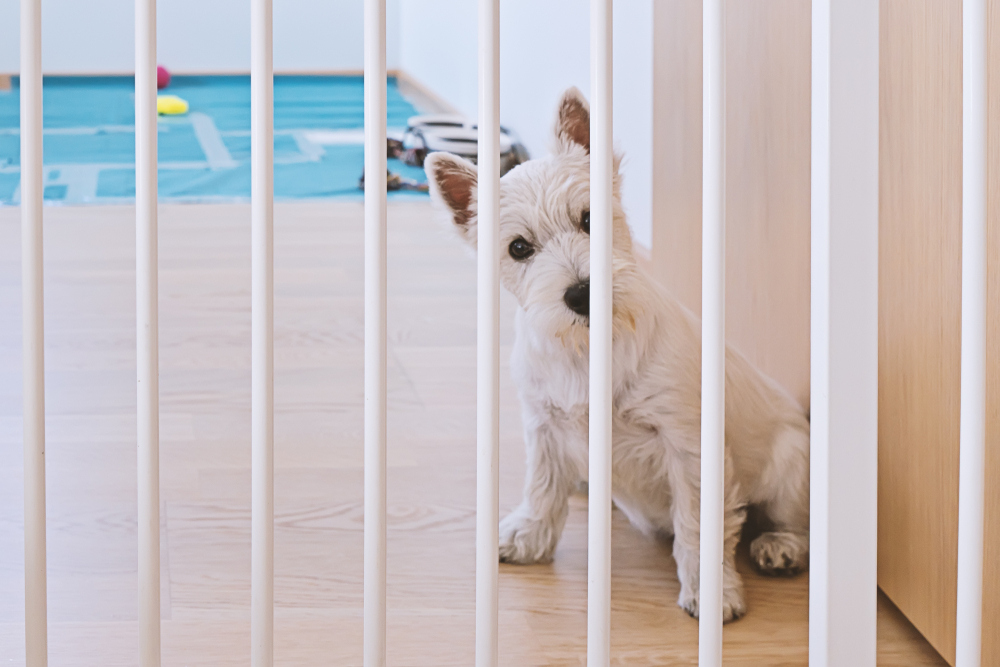 Having a dog means we get the pleasure of watching them run around, play, and wag their tails. However, maybe not every room needs to be their personal play space. Tails knock over glasses, pawprints can stain, and most items of household furniture can become your best friend's favorite chew toy. That's why it's a smart choice to have a dog fence or two laying around. Whatever the case may be, let's dive in and take a look at some of the best indoor dog fences on the market.
MyPet Portable Dog Gate
This easy-to-install gate is the perfect choice for you and your dog.
Let's face it, if we could let our dogs run amok and lounge on every piece of furniture without causing any wear and tear, we would. But alas, sometimes their jovial nature can prove destructive. MyPet knows this, and that's why they've come up with this gate that's durable, safe, and requires zero tools to install. Plus, it's easy to set up, take down, and won't ruin your walls or floors. As a bonus, the Light Gray finish complements almost any décor.
Pros:
No tools required
The color blends well with most decors
Plastic is strong and durable
Easy to mount and then disassemble
Cons:
The locking mechanism can be difficult to work with
Not ideal for every door frame
PetMaker Foldable Free-Standing Wooden Gate
Lightweight and wooden, this gate is the perfect choice for your smaller pup.
This gate will have your pup contained and still allow them to feel like they're part of the action. Portable and lightweight, this item simply folds out and doesn't need to be wedged into any door frame, making it the ideal choice for smaller dogs who won't barrel through and knock it over. Adding to the appeal is the fact that it fits into most closets when not being used.
Pros:
A great choice for smaller dogs
Doesn't need to be fitted to a doorframe
Folds up and can be easily stored away
Mahogany stained wood
Cons:
Not suitable for larger breeds
The wooden surface is not always smooth and might cause splinters
Carlson Extra-Wide Walk-Through Pet Gate
This hassle-free blockade easily opens and closes while mounted to the wall.
Pressure-mounted, this gate is a safe bet for long-term use. Constantly putting a fence up and taking it down can prove tedious after a while, especially if there's a room that's permanently off-limits to your pet. If that's the case, Carlson has you covered. Requiring no tools to assemble, this fence can extend up to 4 inches for those wider door frames or stairways, and if you need to get through, there's an easy-latch door that opens right up. Convenience really is key with this item.
Pros:
Convenient for long-term use
Extends up to 4 inches for longer archways
No tools required
Equipped with a walk-through door
Cons:
The latch isn't always aligned properly
Metal bars can bend easily
Pawland Wooden Freestanding Gate
Fashionable and functional, this gate easily effortlessly blends with your home's décor.
An indoor dog fence can serve more than just one purpose, and Pawland knows that. Therefore, they've come up with a 3-in-1 design that can act as a gate, room divider, and pet pen. With a contemporary wood finish, this item stands out in all the right ways, giving your home a modern touch in the process. Free-standing, this gate also folds up, making it easy to store.
Pros:
Can be used for more than just a blockade
Wood finish
Arrives completely assembled
Folds into a Z-shape, making it compatible with most rooms
Cons:
Lightweight so can be easily moved by bigger dogs
Not the sturdiest of gates
Pawland Extra-Wide Dog Gate
Pawland has you covered for those wide doorways and staircases.
Not everyone has a standard-sized doorframe or a regular-sized staircase. That's okay because Pawland knows that every home is different, which is why they have this sprawling 144-inch gate that's perfect for those larger spaces. There's even a small door to walk through, which only adds to the convenience. Because this item is so wide, it can also be folded into a playpen for your four-legged best friend.
Pros:
Perfect for larger spaces
Built-in door
Can serve as a playpen
Solid wood frame with a wire interior
Cons:
Not ideal for larger breeds
Hinges on the door are not the most durable
Frequently Asked Questions
What are certain things I should look for when purchasing an indoor dog fence?
There are a few things you'll want to keep an eye out for. If your pet is on the larger side, it's recommended to get a taller gate, preferably one that can fasten to archways or staircases. With smaller breeds, however, you can safely get away with a shorter, freestanding gate that can easily fold away and fit in your closet. Some of these gates are designed for durability while several others focus on aesthetics. Reading the reviews will help give you a sense of what might be the right gate for your best friend.
Will these gates damage floors and doorways?
With rubber padding and soft floor grips, these gates should keep your home safely intact and scrape-free. Even the free-standing gates have smooth bottoms, so most options glide easily without leaving scuff marks.