The Best Guinea Pig Beds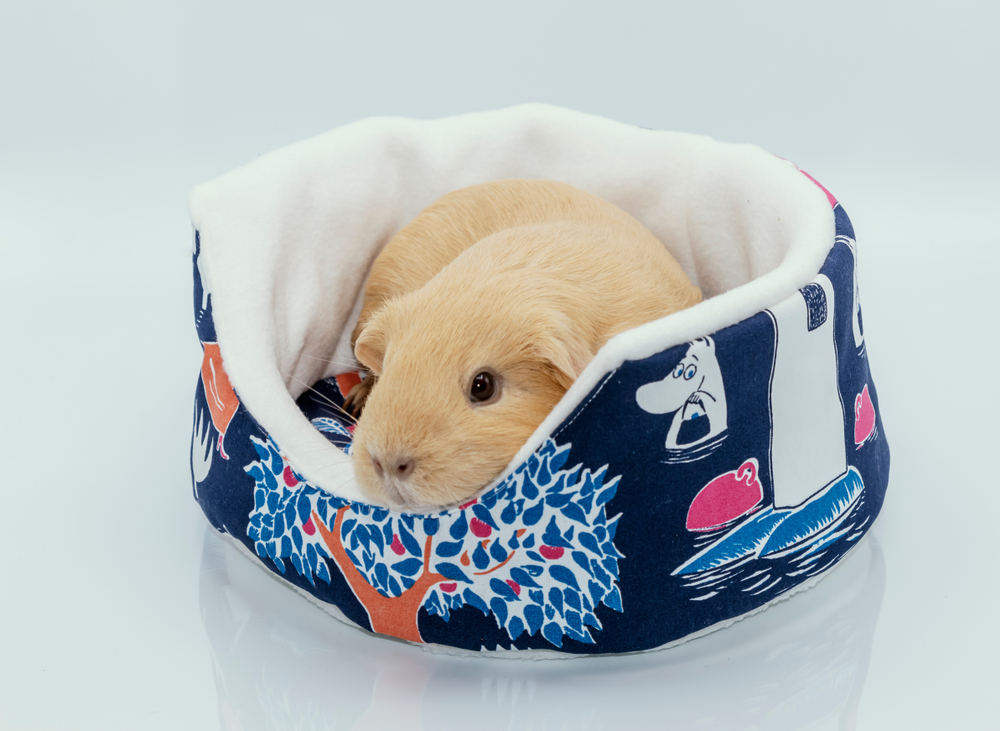 As a pet owner, you know how important it is to make sure your furry little friends have a safe and comfortable area to sleep. This is especially the case for guinea pigs, who like to spend the majority of their time in enclosed spaces. A bed designed specifically for guinea pigs can give your pets a safe and secure sleeping area so that they can get the rest they deserve. If you've never dealt with an angry guinea pig, take our word for it: you don't want to deal with a guinea pig that woke up on the wrong side of the bed. To make sure your furry friends get the beauty sleep they deserve, pick a bed from this list we've compiled. Included you'll find a few of our favorite guinea pig beds selected for their quality, cost value, and comfort.
Bwogue Guinea Pig Bed
This bed's two-in-one design and excellent stitching have earned it a sterling reputation.
What makes us so fond of this bed from Bwogue? First off, the foldable design allows the bed to take two separate forms. In its default orientation, it can be used as a comfortable cave for your guinea pig to hide and hang out in. But flatten the roof and this thing transforms into the perfect sleeping surface to ensure your guinea pig gets a good night's sleep. Plus, the removable bed pads provide a cozy cushion to keep your guinea pig warm on cold nights. The excellent stitching and pretty patterns are a plus, too. To top it all off, the wide-entrance design offers you easy access to your pet and makes it simple to clean. the interior.
Pros:
Foldable design provides versatility as it can be used as a cave hideout or a mat for sleeping
Removable pads provide warmth and comfort
Wide-entrance structure makes it easily accessible and convenient to clean
Cons:
The color may fade a bit after you wash it
Rioussi Guinea Pig Bed
The polyester pad and tough fabric combine to make this bed a chew-proof marvel.
If chew-proof is what you want, with this bed, chew-proof is what you'll get. Sure, this bed's fluffy, breathable fleece surface provides your guinea pig with a cozy space to sleep or hide out. But comfort aside, the bed's tough material is strong enough to stand up to even the most insistent of nibblers. Versatile in its design, this guinea pig bed is just as appealing to other small animals like kittens, puppies, and rabbits. And you can easily clean it in your washing machine to ensure it remains in peak condition.
Pros:
Can be used by guinea pigs, puppies, kittens, and more
Breathable fleece material
Polyester padding enhances flexibility and versatility
Cons:
This bed cannot be dried in the dryer
Fladorepet Guinea Pig Bed
Aside from being supremely comfortable, this bed's materials are also dust-resistant and moisture-proof.
Thanks this bed's ultra-soft construction, your guinea pig is in for a treat. With the aim of designing a bed to provide optimal comfort, Fladorepet created this lovely option. Aside from being so cozy, it's also well-made thanks to the high-density cotton that it's manufactured with. Plus, the materials' heat retention is perfect for keeping your furry friend warm on those long, chilly nights. On top of all that, the bottom of this bed is made of plastic drop cloth that provides it with an anti-skid, moisture-proof, and dust-resistant surface, making it far more durable than other beds.
Pros:
Plastic drop cloth bottom enhances durability and longevity
High-density cotton construction
Soft fleece design offers superior comfort
Cons:
It would be great if there were more color options to choose from
Wowowmeow Guinea Pig Bed
Boasting plush, ultra-soft fabric, this bed is so comfy you might just wish you were small enough to fit inside.
As far as guinea pigs are concerned, this option from Wowowmeow is the epitome of comfort. The soft plush fabric is filled with polyester to give it a cozy and warm feel, and this makes the bed an ideal space for your guinea pig to sleep, hang out, or play. Plus, the polyester also allows it to hold its shape very well over time. Additionally, two clips are included with the bed, allowing you to attach the plush bed to your guinea pig's cage so that it stays in place. Last but not least, it is super simple to clean and safe to put in the washing machine.
Pros:
Plush fabric provides comfort and warmth
Polyester filling prevents the bed from deforming
Two clips allow you to easily attach a bed to your guinea pig cage
Cons:
This bed is a bit smaller when compared to other options
Niteangel Guinea Pig Bed
This nifty bed from Niteangel offers a design that'll work for various types of small animals, so it's great for those with multi-pet homes.
This pick from Niteangel is one of the most versatile guinea pig beds on the market. Produced with warm polar fleece, this bed isn't just warm and cozy — it's also incredibly versatile, as it appeals to a variety of other small animals including ferrets, rabbits, kittens, and puppies. Additionally, this comfy bed features a rigid opening that is easily accessible, making it much simpler for you to view or play with your pet whenever you'd like. Also, it makes for a nice decoration in your guinea pig's cage, and it helps your guinea pig get better sleep, which helps decrease their stress levels.
Pros:
Can be used by various types of small animals other than any guinea pigs
Open-based structure; easy access to play or interact with your guinea pig
Warm polar fleece provides comfort and helps your pet get a better quality of sleep
Cons:
The bed isn't big enough for two guinea pigs
Frequently Asked Questions
How often should I wash my fleece guinea pig bed?
We highly recommend that you wash and replace the fleece bedding liners every three to four days. That being said, this can fluctuate based on how many guinea pigs you own. Also, you can extend the use of your fleece lining if you air dry them for a few hours while your guinea pigs are out of their cage.
What kind of bedding material should I get for my guinea pig?
Your bedding material should be relatively clean, non-toxic, and dust-free. There are a variety of different bedding designs to choose from. This includes wood shavings, commercial pellets, fleece liner, and more. Also, make sure you don't use cedar shavings as they can cause respiratory and liver issues for your guinea pig.