The Best Dog Bones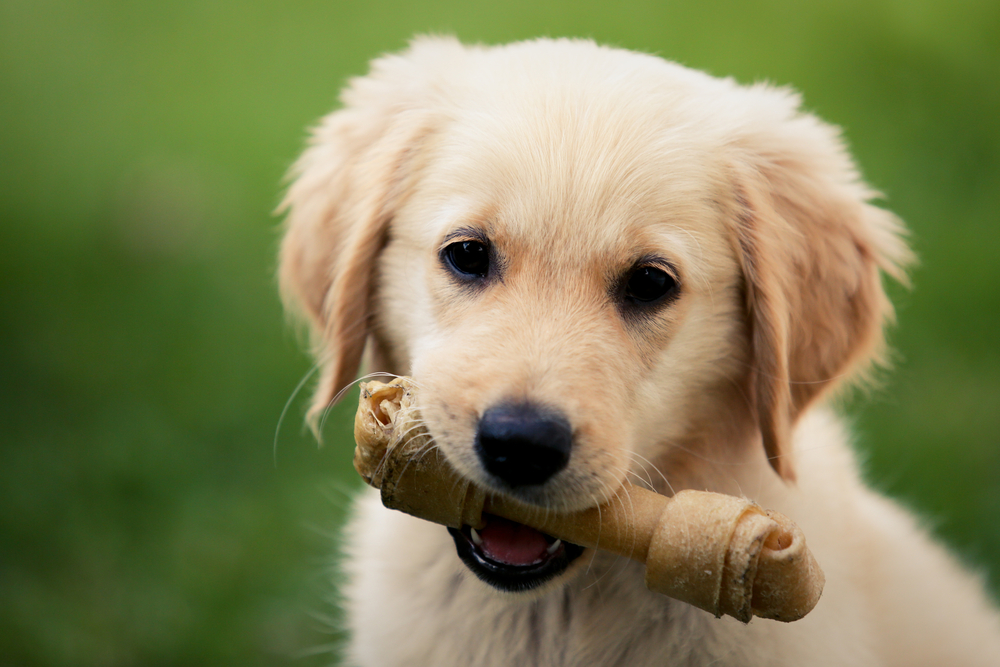 There aren't many treats dogs love more than a good bone to chew. A savory bone can be a great reward for your good boy or girl after a long day of training, playing, working, or cuddling. Not only do dogs love eating these chewy, meaty snacks, but their nutritional value can also provide great benefits to your dog's teeth, coat, disposition, and overall health. A good dog bone can help remove unhealthy plaque buildup from those hard-to-brush back teeth. It can provide nutrients essential to keeping their coat healthy and full. It can also provide much-needed entertainment to alleviate boredom and keep your dog's mind occupied. Burying a favorite bone and using their keen sense of smell to track it, dig it up, and enjoy all over again not only satisfies their canine instincts, but it can also distract your dog from chewing up your furniture and shoes. A great bone is essential to a happy dog. Here are our favorite delicious picks that both you and your dog are sure to love. Bone appétit.
K9 Connoisseur Single Ingredient Dog Bones
The simplest treat can be the most satisfying.
The simplest, purest beef bone on the market, this savory marrow-filled treat is made from grass-fed cattle born and raised in the USA. Containing no artificial ingredients or preservatives, you can rest assured that your dog is getting a delicious hickory-smoked treat while also consuming vitamins and minerals essential to their good health. Each bone contains a minimum of 30% protein, which promotes your dog's mental and physical wellbeing. In addition to being an all-around canine favorite, this bone is also a great value. It can withstand days of chewing from even the most enthusiastic of chewers, leaving your dog sated and satisfied.
Pros
100 percent natural beef bone – no additives or preservatives
Very durable – can last for days
Many customers have raved about the amount of meat attached to the bones
You can add extra treats like peanut butter into the bone after your dog consumes the marrow
Cons
Some customers have reported receiving some hollow bones mixed in with marrow-filled bones
All-natural bones are subject to decay over time and can produce unpleasant odors if your dog hides them in your home
Savory and long-lasting, these mini soup bones are made with natural ingredients.
Ideal for smaller dogs, these mini soup bone chews pack a big punch. Whether you're rewarding your furry pal for a job well done or giving them a treat "just because", your dog will love the meaty center inside these savory chews. Free of any meat byproducts and artificial flavorings, these bone chews are also a smart, nutritious choice to keep in your treat cabinet. Their smaller size also makes it easier to give in to those sweet begging eyes a little more often than usual since you can rest easy that you're not giving your dog too much of a good thing.
Pros
Perfect size for smaller dogs
Enticing meaty center
Multiple flavors to choose from
Can be ordered in bulk so you won't run out
Cons
Medium to larger sized dogs will devour these in seconds
Blue Buffalo Dental Bones
These delicious and nutritious bones contain irresistible bison flavoring while promoting your dog's dental health.
Who says snacks can't contribute to healthy teeth and gums? These Blue Buffalo Dental Bones come in sizes from mini to large and are sure to be a big hit in any canine household. Not only does their texture help to clean plaque and tartar from your dog's teeth, but they are also free from artificial colors and preservatives so you know your canine pal is getting a nutritious treat. As a bonus, they help promote fresher breath, which is a plus for anyone whose dog loves to play close and lick your face.
Pros
Several different size options to choose from – ideal for households with multiple dogs
Chewier texture adds time to the teeth cleaning process
Contains no corn, wheat, or soy so they are easily digestible
Enhanced with added minerals
Cons
Some customers have reported inconsistent quality when reordering multiple times
Devil Dog Premium Elk Antlers Dog Bones
These delicious wild-shed elk antlers humanely satisfy your dog's hunting instincts while providing natural vitamins and minerals.
Unleash your dog's inner wolf with these sustainably sourced wild elk antlers. Unlike traditional dog bones, antlers are clean, odorless, and pack the same amount of beneficial vitamins and minerals your dog needs to grow and thrive. Since antlers are made of bone, they will outlast traditional factory-made treats. Even the most aggressive chewer will enjoy these antlers for days instead of hours, minutes, or even seconds. In addition to being a great treat for your dog, you can rest assured that you're supporting a business that sells only wild-sourced antlers straight from the Rocky Mountains. Your dog's new favorite treat will never come from an elk farm or a hunter. To top it off, your dog's enjoyment will directly benefit other dogs; Devil Dog Pet Co donates a percentage of all sales to support selected rescue programs.
Pros
All-natural, organic, sustainably sourced wild elk
4 sizes available to choose from – perfect for dogs of all sizes
Antlers contain the same nutritional benefits as traditional dog bones
Since they do not contain meat, they do not smell
Long-lasting
The company supports a good cause
Cons
Since no two antlers are alike, they can vary in size, shape, weight, color, and density
You'll need to take it away once the antler becomes small enough to be a choking hazard
Milk-Bone Original Dog Treats

These milk bones are a classic staple for dogs of all shapes and sizes.
Your dog will undoubtedly go nuts when you reach for the bright red box containing these timeless classic bone-shaped biscuit treats. Milk-Bone has had over 100 years in business to perfect a recipe for a taste dogs love while making sure its wholesome ingredients include vitamins and minerals to keep your best friend happy and healthy. With 20+ varieties of shapes, sizes, and flavors to choose from, your dog will never get tired of the same snack. As a bonus, their crunchy texture promotes better breath by helping to remove tartar and plaque buildup from your dog's teeth.
Pros
A wide variety of sizes and flavors are sure to appeal to every dog.
Fortified with essential vitamins and minerals
Cons
Dogs can consume these very quickly and beg for more
They can be crumbly and can make a mess
Frequently Asked Questions
Can't I just give my dog the bone leftovers from my own meal?
In short, yes. However, you'll need to keep a very close eye on your furry friend while they enjoy their treat. Human mouths and teeth are smaller than dogs'. Their physiology, combined with their characteristic enthusiasm for food can be a recipe for choking, especially on bones from smaller animals like chicken or fish. It's highly recommended that any bone you feed your dog be manufactured or packaged specifically for dogs.
Are real animal bones more beneficial for my dog's health than manufactured treats? 
Real animal bones will always contain the most natural nutrients your dog can get. That said, manufactured treats can contain ingredients that are also healthy. It is up to you to weigh the pros and cons and ultimately choose the bone that is best for your dog.