The Best Chicken Coops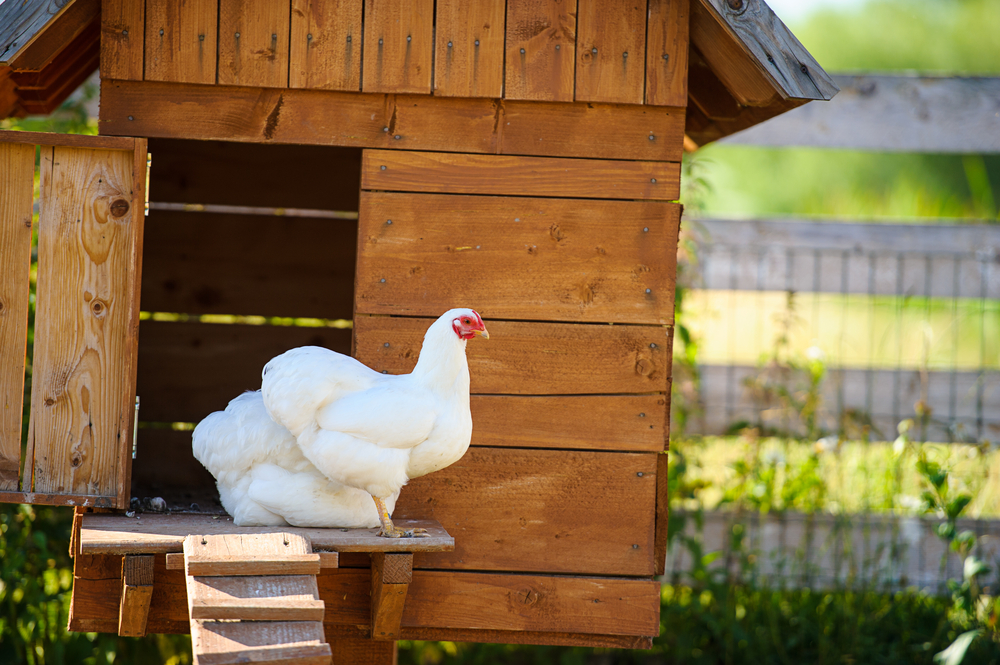 Owning backyard chickens is such a rewarding experience. Not only will you enjoy an endless supply of delicious and nutritious eggs, but you'll also be able to share your bounty with friends and family members. And, not to mention, chickens make wonderful pets. They eat garden pests, love to chow down on kitchen scraps, and are sweet, docile creatures. If you're thinking of getting backyard chickens, the first step is to get the right coop for your flock. Here, we've rounded up the best chicken coops available, grouped by category.
BestPet Chicken Coop
Give your chickens the quality care they deserve with the BestPet Chicken Enclosure.
If you want to give your beloved hens some outside time, or you have chicks that need a temporary home, the BestPet Chicken Coop is a must-have product. Crafted using an anti-rust epoxy coating and equipped with an extra-strength waterproof cover, this pen is built to withstand the elements. Not to mention, the added UV protection helps to prevent fading, ripping, and cracking due to sunlight. It's versatile, too. You can use it for chickens or virtually any other pet. Easy to install and take apart, the BestPet Chicken Coop is ideal on all counts.
Pros:
Made from highly durable anti-rust materials that provide resistance against fading and corrosion
Comes with a solid waterproof cover
UV-protected
Super-easy to assemble
Doubles as a playpen for other small animals, in addition to chickens
Cons:
This pen only works as a temporary space for chickens who need outside time (apart from their regular coop) or for young chicks.
Tangkula Large Chicken Coop
The Tangkula Chicken Coop is built to last.
If durability is your main concern, look no further than the Tangkula Chicken Coop. It's made from premium natural fir and hand-painted with a waterproof (and non-toxic) varnish that's designed to last for years. Conveniently, this coop comes with a nesting box, resting box, and ramp, while the raised perch helps to keep your hens nice and dry in rainy weather and the ladder provides easy access to the upper and lower areas. And, the removable bottom sliding tray allows for easy cleanup.
Pros:
Very sturdy, durable construction
Made from natural fir wood and painted with an eco-friendly, waterproof, non-toxic varnish
Comes with a nesting box, resting box, and ramp
Has a removable bottom sliding tray, to allow for easy cleaning
Waterproof roof, made of green asphalt composite
The ladder gives easy access to upper and lower areas
Cons:
 Doesn't come with nesting boxes, a perch, etc.
Aivituvin Extra-Large Chicken Coop
The Aivituvin Extra-Large Chicken Coop is extra-spacious.
Big enough to comfortably hold three to four birds, the Aivituvin Chicken Coop is a great product pick if you need extra space for your chickens. This coop has four access doors and two ramps, along with a deep pull-out tray and high-quality latches that do an excellent job of keeping predators out. Plus, this coop is made from hardy waterproof materials, so it'll hold up under inclement weather.
Pros:
Spacious enough for two to three chickens
Has four access doors and two ramps
Crafted from waterproof materials
Has a deep pull-out tray
High-quality latches to keep out predators
Cons:
You do have to have a power drill (and some patience) to put this coop together
PawHut Wooden Backyard Chicken Coop
You'll love the look of this PawHut Chicken Coop.
The PawHut Wooden Backyard Chicken Coop is simply the most stylish coop available, with its hunter green color and chic facade. This beautifully-designed coop boasts a variety of features, including a nesting box (with hinged top, so you can easily collect eggs), perches, a ramp, and screened windows that allow for proper airflow. Made from superior-quality fir wood, this coop is spacious, and it even attaches to an open, fenced-in enclosure so that your chickens can roam without being harmed.
Pros:
Stylish design and gorgeous hunter-green color
Made from superior-grade fir, with a treated finish
Spacious indoor area and outdoor (fenced-in) area
Comes equipped with a hinged top, perches, a ramp, and screened windows that allow for ample airflow
Cons:
Definitely on the pricey end
PawHut Portable Chicken Coop
This PawHut Chicken Coop comes with wheels, which means you can place it in different areas around your yard. The result? Happy chickens and healthy grass.
A wheel system makes it super-easy to transport your coop from one area of the yard to another, providing your chickens with fresh scratching areas and keeping your grass looking as healthy as possible. Enter the PawHut Portable Chicken Coop, which has wheels attached to one side, for easy mobility. This fully portable coop is also decked out with a large outdoor run, ramp, pull-out tray, and heavy-duty galvanized wire. The wood is well-ventilated, too, which makes for safe, healthy living conditions for your birds.
Pros:
The wheel design makes it easy to transport the coop (if you move your coop around, your chickens will have fresh scratching areas and your grass will be healthier, overall).
Attaches to a wide-open fenced enclosure, giving your chickens plenty of room to move freely
Easy access door at the front of the coop
Has a pull-out tray
The wood is well-ventilated
Galvanized wire is strong and durable
Cons:
The directions for assembly could stand to be improved
Frequently Asked Questions
What factors should I consider before buying a chicken coop?
Size is one of the most important factors—your chickens will be at their happiest and healthiest if they have proper room to roost and roam. Choose the most spacious coop possible, providing a bare minimum of three to four square feet per bird inside the coop (with more square footage inside the run). Make sure that they have plenty of roosting space and natural light, and that the coop is tall enough to provide ample air circulation and sturdy enough to protect your birds from potential predators.
How big should my chicken coop be?
Chickens must have plenty of room to roam, as overcrowding can lead to pecking injuries. Your coop should also be at least three to four feet tall, to help keep the temperature at a comfortable, humane level. Thus, the bigger, the better. When determining the best-sized coop, you'll also want to consider how many nesting boxes you plan to add inside the coop, as well as how much space you'll give your chickens outside of the coop (providing a chicken run or otherwise dedicated outdoor space for your chickens is incredibly important for their well-being).