The Best Bed Dog Steps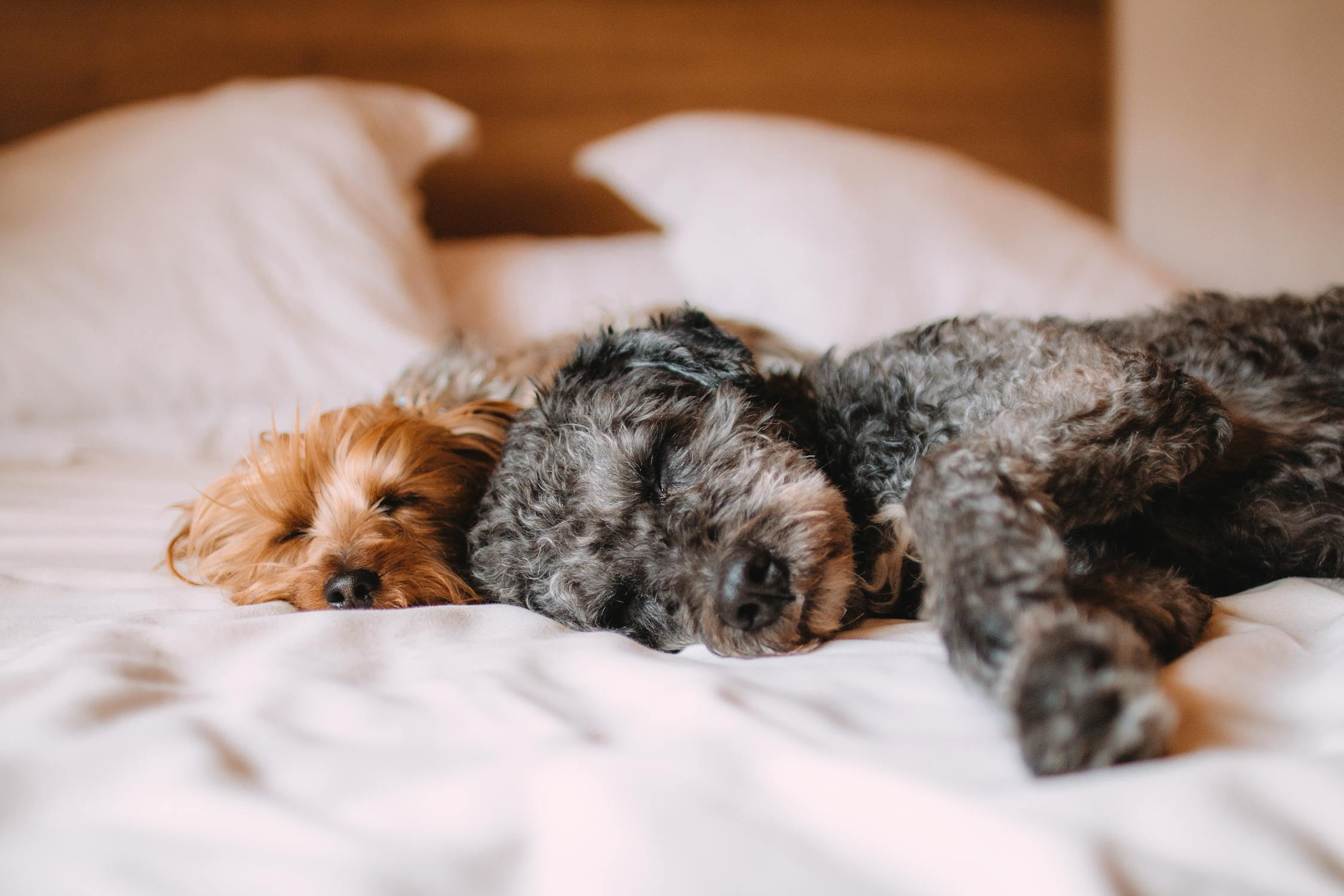 When your beloved pooch grows old, it may not be easy for him to climb up into bed with you at night. If your buddy is in need of a boost, a set of dog steps for the bed may be in order. To help you out, we've found and reviewed some of the best versions on the market today. Browse through our favorites and we're confident you'll find the dog steps that are best for Buster.
PetSafe CozyUp Folding Pet Steps
These dog steps for the bed are made of durable plastic, and they fold down easily for use in various spaces.
These dog steps for the bed from PetSafe are designed to work well in any space with their impressive 25-inch height and fold-up style. The treaded stairs and side supports help keep your pets safe while they climb, especially if they're old or recovering from an injury.
These steps are made of plastic, which makes them both sturdy and easy to wipe clean. They can support dogs that weigh up to 200 pounds, though their thoughtfully designed step height works well for small furry friends, too. Non-slip feet on the bottom make the set safe to use on any type of surface.
Pros:
These stairs come in gray or tan, so you can choose the shade the best matches your bedroom

They fit underneath most beds when they're folded up, which is excellent for those living in smaller spaces
Cons:
The height is not adjustable, though you can purchase different sizes if this version is too tall for your sleeping space
Best Pet Supplies Foam Stairs
If your furry friend isn't a fan of hard surfaces, these soft, easy-to-climb steps may be the support they need.
If your dog experiences joint pain regularly, you may not want to introduce another hard surface for them to climb as this could exacerbate that pain. Luckily, these stairs from Best Pet Supplies are made completely of foam, so your furry friend can crawl up on the bed without causing any more harm to themselves. The interior is even considered mattress-grade, so you can trust your pet is getting one of the most cushioned materials available on the market today.
These dog steps measure 18 inches high and have four steps for even the smallest pups to climb. They come in tons of different colors to suit your home's style, and their outer fabric is made of a corduroy material, which can help give pets a bit more grip as they walk up and down.
Pros:
The soft cover is completely removable, so you don't need to worry about spills or accidents leaving stains behind

The weight limit is 100 pounds, so the stairs can support dogs of most sizes

3- and 4-step versions are available if you need a shorter or taller set
Cons:
 Since these are made of fabric and foam, some washing will likely be necessary as time goes on
Pet Gear Easy Step II Stairs
These ultra-strong steps can hold dogs up to 150 pounds, so even your largest companion can join you in the bed.
Do you have a huge dog living in your home? These sturdy steps from Pet Gear ensure that large pooches won't be cut out of snuggle time when they grow old and can no longer hop up onto your bed on their own. These stairs can hold up to 150 pounds on their durable plastic base, and the grip-covered treads and non-slip bottom make sure they'll stay in place even through the most energetic climbs your furry friend has to offer.
These dog steps for the bed have two levels, and their total max height is 22 inches. They're easy to snap together during the installation process, so you won't need to take your tools out of storage when your purchase arrives in the mail.
Pros:
These stairs are easy to clean, as they're mainly made of plastic and the carpet treads come off for quick washes

They're designed to be wide and deep for the largest climbers

 
Cons:
The two-step style may be a bit difficult for smaller dogs to crawl up
Best Pet Supplies Foldable Pet Steps
These stairs can be adjusted to different levels of support, so your pet can climb onto surfaces of any height with ease.
If you have more than one spot you'd like to snuggle your pup throughout the day, one set of stairs may not be enough. Luckily, this version from Best Pet Supplies is adjustable, so you can adapt it to surfaces of various heights. It's also fairly easy to carry around the house since it's made of lightweight foam.
These pet stairs have three steps when they're set up, and a flat, box-like shape is created when the top level is folded down. This is convenient not only for shorter platforms, but for storage as well. If you don't need the piece all the time, simply slide it under the bed or into a closet while it's not being used.
Pros:
The foam is mattress-grade, giving your pet the best quality cushion to climb

The cover is removable for easy washing
2-step and 4-step versions are available if you need a different height
Cons:
This may not be the best for bigger dogs as it doesn't have an extra-durable build or grips to hold it in place on the ground
PetSafe Folding Wood Pet Stairs
Don't let dog steps take away from your bedroom's decor — these wooden stairs are made to look good while serving your beloved pet just the same.
Dog steps shouldn't have to take away from your bedroom's style. These stairs from PetSafe are made of handsome, high-quality wood, that'll only contribute to the decor of your room. The dark stain matches most decor types and the entire set can fold up and slip under the bed when it's not being used.
These steps come in a variety of size options for small, medium, large, and extra-large dogs. They've been tested for safety measures and even have carpeted covers on every step to prevent your furry pal from slipping while they climb.
Pros:
Depending on which size you choose, the stairs can support 150-200 pounds

Even though the materials are high-quality, the price isn't much higher than similar steps
Cons:
Since these are made of wood, they will be heavier than other versions sold today
Frequently Asked Questions
Are foam steps or hard surfaces easier to climb?
This may depend on your pet's specific needs. If your dog suffers from joint pain, foam stairs may feel more comfortable. If they are large or energetic, plastic or wood versions may stay in place better, making them easier to use overall.
Where else can dog steps be used?
These products can be used anywhere your dog needs a bit of help climbing. For example, they could be set near the couch, a favorite chair, beside a window bench, etc.