The Best Playpens for Dogs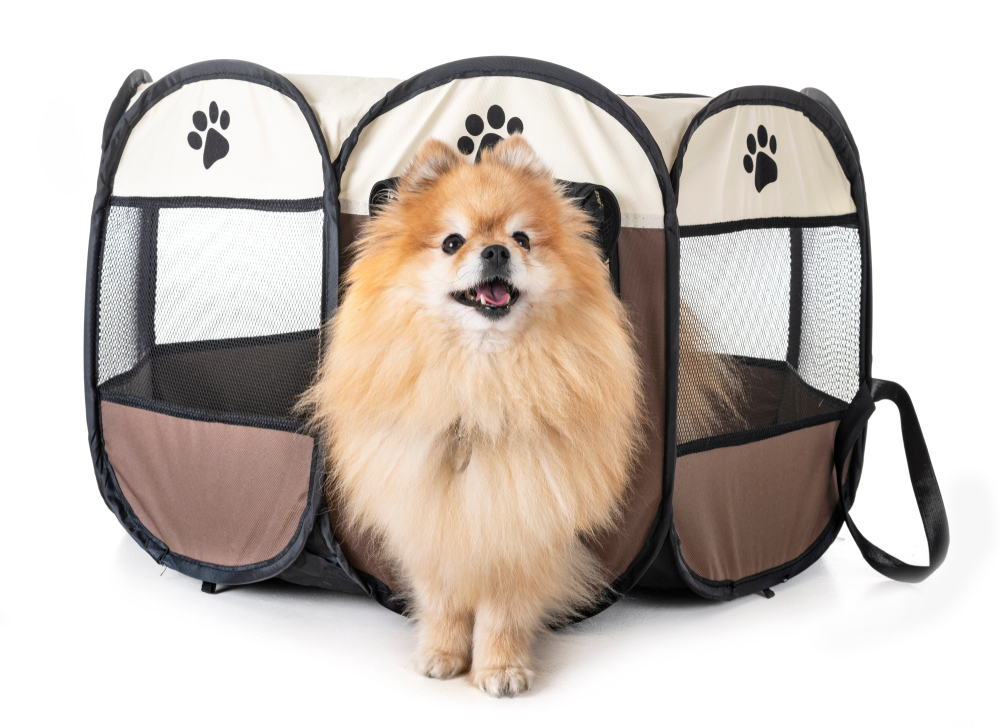 It's tough to always keep an eye on your dog to make sure they're safe. Even when dogs are indoors, they can get up to no good and break something or rip something when you aren't looking. Dog playpens provide a safe space for your dog and keep them contained. But not all dog playpens do the job. Some are better for the outside than the inside, while others come with some extra perks. We've done the research and came up with a list of the best of the best.
New World Pet Playpen
This classic playpen is simple to set up and comes at a great price. It also comes in many different sizes.
The New World Pet Playpen is simple and easy to use. It has eight connected panels that, when combined, provide a simple octagonal area for your pet to play in. Better yet, New World offers their sturdy pens in five different sizes so you can find the perfect pick for your pup. And when it's time to set it up, assembly is a breeze. There aren't any tools required to put the playpen together, just unfold it and it's ready to go. Appropriate for both outdoor and indoor use, this option comes with ground stakes to secure the playpen in your yard. It also has four locking thumb snaps and can connect with a metal crate to expand your dog's sleeping area.
Pros:
Rust-resistant so feel free to keep it outside
Includes locking thumb snaps for connecting the pen to a crate
Super affordable
Comes with ground stakes for security
Cons:
The smaller pen isn't suitable for a bigger dog, so be sure to get the right size
Horing Pop Up Tent Pet Playpen
This pop-up tent gives your petite pooch plenty of space to lounge outside.
If you have puppies or a small breed, you should definitely check out this pick from Horing. It pops up easily, so you can take it wherever you go to provide your pooch with a safe place to lounge. It's also a fantastic alternative to keeping your dog on a leash when you hit the beach or park. We were also pleasantly surprised to discover that the flooring zips off for convenient washing. After all, whether you have a puppy or just a small dog, accidents are inevitable.
Pros:
Fantastic value for the price
Breathable and safe
Easy to assemble and easy to collapse
There are two doors, one on the roof and one on the side
Cons:
Fairly small, so it's not the kind of playpen for holding a pet all day long
ToysOpoly #1 Premium Pet Playpen
This affordable playpen is our top pick for indoor use.
This option from ToysOpoly is a nifty little playpen for setting up in the living room. Actually, it can be used both indoors and outdoors, since the pop-up design lets you take it with you. It's also water-resistant, so a little puppy pee can be cleaned off easily. That being said, this option is perfect for keeping your pooches contained indoors, especially when they're going through the teething phase and you don't want them gnawing on the sofa.
Pros:
The bottom comes off for cleaning
Inexpensive price point
Travels easily thanks to the collapsible design and carrying handle
The fabric won't scratch wood floors
Cons:
Really persistent puppies may find a way to chew their way out
Carlson Pet Products Foldable Steel Pet Playpen
Something akin to a pet gazebo, this 8-paneled portable playpen is a must-have for picnics in the park and other outdoor excursions.
Dogs deserve a little elbow room, especially when they're outside enjoying the breeze. That's why we recommend the Carlson Foldable Pet Playpen. Made out of UV-protected polyester and a metal frame, this durable pen is ideal for letting small- and medium-sized dogs enjoy the outdoors without running off. The best part of all is that, although it's fairly large in size, it can be unfolded and set up in literally just a couple of minutes. Of course, you could also use it inside, but your dog would probably prefer the fresh air.
Pros:
Surrounded by a mesh screen that blocks mosquitos and other bugs
Cleans up easily using a soapy rag or some paper towels
The steel frame gives it a durability that competing playpens just don't have
Cons:
Frequently Asked Questions
Can these be used for other animals?
Yes, any of these playpens can be used for other pets such as hedgehogs, guinea pigs, ferrets, or rabbits. Remember, however, that these products are usually designed for dogs, so some may have spaces that a small animal, like a ferret, could slip through. If you have a small animal, we recommend choosing a playpen with a screen instead of one with bars.
Can I leave my playpen-of-choice outside?
Many of the options on our list are rated for the outdoors. These options can certainly handle a little bit of moisture, sun, or other weather conditions. That being said, your playpen will last the longest if you bring it inside when it isn't in use since all weather-proof products have their limits.