The Best Paw Cleaners for Your Dog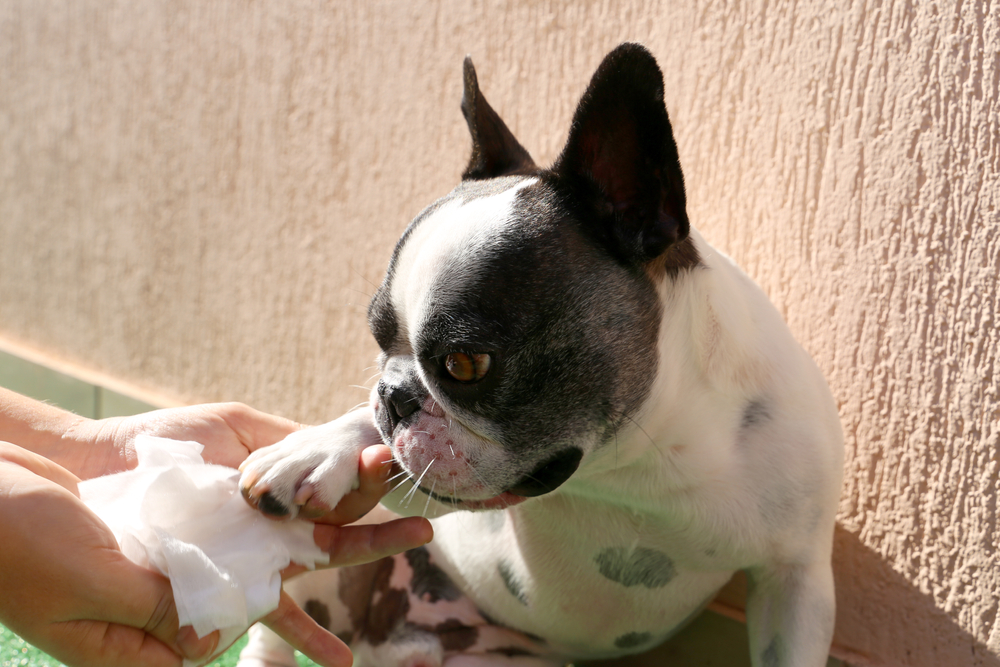 Dogs love to roam around and play in the dirt; it's practically part of their nature. That being said, it can be a tad annoying when Buster drags his paws all over the floor after digging holes. Keeping a gross, wet, stinky towel by the door isn't always the best option, either. Say goodbye to muddy, dirty floors forever when you invest in a dog paw cleaner. Trust us: if your pup constantly tracks debris everywhere, this handy, innovative little tool is bound to become your new trusty companion. Paw cleaners provide an easy, effective way to thoroughly wash your dog's paws every time they're outside, which in turn helps protect your flooring and home. Here are a few of our favorite paw cleaners for your pup, grouped by category.
Dexas MudBuster Portable Dog Paw Cleaner
Aptly named, this highly effective paw cleaner gets rid of dirt instantly.
Sleek, low-tech and super-easy to use, the Portable Dog Paw Cleaner from Dexas MudBuster is every pet owner's go-to. Whether your dog's paws are totally caked with stubborn mud or just a little dusty, this device will banish every last trace of dirt, mud, and debris in a mere matter of seconds. All you have to do is add a little water to it, and the gentle silicone bristles will sweep away the dirt and germ particles that collect on your pup's underside, legs, and paws. Plus, the MudBuster comes in three sizes, for your dog's comfort. No more muddy floors, once and for all.
Pros:
Gentle and easy to use.
Comes in three sizes, for small, medium, and large dogs
The bristles inside the cup can be easily removed and rinsed off.
Cons:
Your dog must be okay with you holding their paws.
Paw Plunger Portable Cleaner
Let the Paw Plunger do all the work after those muddy hikes.
The Paw Plunger is awesome for keeping at your back door, taking with you on walks, or stowing away in your car, thanks to the tool's streamlined, portable, coffee mug-like design. Conveniently, the top of the Paw Plunger is designed so that water doesn't slosh out from the cup, so the area around it doesn't get wet. It even comes with a flexible rubber top so that the inside stays nice and clean in between uses.
Pros:
The design is genius: The thick handle makes it easy to carry, while the rubber top keeps water from escaping.
Comes in three sizes.
 Bristles are soft yet effective.
Cons:
It can be a little tough to get the dirt out from the dog's toenails using just this tool.
Petpost Paw Wipes
Petpost Paw Wipes are the ideal solution for muddy paws.
If you'd prefer to use a wipe to clean away debris from your dog's paws, the Petpost Paw Wipes are perfection. These super-effective, all-natural wipes contain coconut oil, jojoba oil, and aloe vera, all of which have moisturizing, healing properties for dog's skin and hair (no harsh chemicals needed). Plus, the wipes themselves are super-soft and gentle, so if your dog's skin is easily irritated, these are an excellent option.
Pros:
Wipes are gentle yet effective.
Great for dogs with sore, itchy feet, infected paws and pads, or skin that's easily inflamed or irritated.
Comprised of all-natural, plant-based ingredients that are great for dog's skin, like jojoba oil, coconut oil, and aloe.
Cons:
The fragrance is a touch too strong.
PETRIBE Waterless Cleaning Shampoo Dog Paw Cleaner
When those paws are truly caked with dirt, this waterless paw-cleaning shampoo takes the cake.
For dogs that get especially dirty, PETRIBE's Waterless Paw Cleaning Shampoo is awesome at thoroughly cleaning every inch of mud and dirt away. Not only is the cleaning brush soft, gentle, and effective, but the waterless shampoo (which is all-natural and non-toxic) offers next-level cleanliness. The device's ergonomic design fits your pooch's paws comfortably, too.
Pros:
Bristles on the brush are silky-soft yet great at removing all types of dirt.
Waterless cleaning shampoo helps to remove even the most stubborn mud and dirt.
Comes with a protective lid in case you want to tote it around for cleaning paws on the go.
Cons:
Fragrance is a bit too strong with this product, as well.
Idepet Dog Paw Cleaner
Idepet's Cleaner Cup boasts an excellent, effective design.
The simplicity and ease of the Idepet Dog Paw Cleaner is hard to beat. And, conveniently, the 2-in-1 design means that you can use one side of the cup as a standard paw cleaner when the silicone bristles are on the inside, and when the bristles are on the outside, you can use it as a brush for grooming and bathing. It's lightweight, so you can easily carry it around, and the long shape of the brush makes it a cinch to remove dirt from every part of your pup's paws.
Pros:
Lightweight and portable.
Has a 2-in-1 design, so it can be used as both a paw cleaner and a grooming tool.
Silicone material is soft on dog paws.
Cons:
Might not be deep enough for dogs with really big paws.
Frequently Asked Questions
Should I get dog paw cleaner?
If you're constantly dealing with your pup tracking mud or dirt all over the house, having paw cleaner on hand can come in mighty handy. Paw washers or cleaners make it super easy to keep your house and car looking spotless.
What type of paw cleaner is best for my dog?
If you frequently take your dog on car rides, a small, portable paw cleaner may be best; otherwise, most paw washers are designed to be kept by your front or back door and used when bringing your dog back inside. Of course, you could also invest in both for your convenience.