The Best Large Dog Crates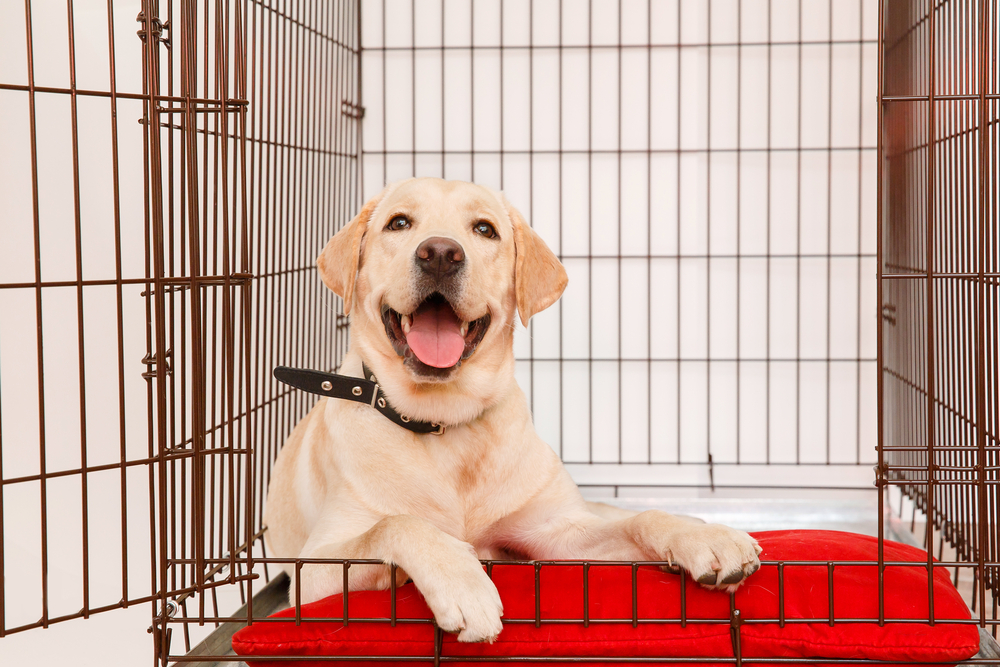 Plus-sized dogs need plus-sized accommodations. Whether your furry friend is a Dalmatian, a Great Dane, or a mixed breed that just kept on growing, you're going to need an appropriately-sized and quality dog crate. After all, your dog deserves better than cramped quarters and loose metal parts. Those overwhelmed with the vast array of options have come to the right place. We've whittled down the options to the best of the best. Here, you'll find our top five favorites, from the best budget buy to the premium pick.
New World Folding Metal Dog Crate; Single Door & Double Door Dog Crates
With a foldable design and an easy-to-clean pan, this option from New World takes the crown for best of the best.
This large dog crate from New World checks all the boxes and even has some bonus surprises. For starters, at 42-inches long, 28-inches wide, and 30-inches high, this pick is the perfect room for most plus-sized puppers. And for such a large size, it's shockingly easy to fold up for travel or storage. Even better, the plastic floor pan can handle pee and other such canine produce, since it's both waterproof and easy to clean. Made out of durable wiring with a plastic coating for comfort, this dog crate keeps your dog safe and secure, as well as the furniture. New World Crates are built to last a doggy lifetime.
Pros
Foldable
Easy to assemble
Cons
Not ideal for escape artists
AmazonBasics Single-Door & Double-Door Folding Metal Dog Crate with Tray
This large 42-inch dog crate from AmazonBasics delivers everything a dog owner needs.
Best Budget-Friendly Option
Big dogs come with big accessories. They require more food, more exercise, bigger chew toys, bigger beds… the list goes on. For those in need of a large-sized crate, AmazonBasics has your back. Their 42-inch option is high quality and built for endurance. The metal wiring features reinforced welding and a snag-free painted finish. It also has that coveted foldability for when you want to hit the road. And although it's not strong enough for determined dogs prone to biting their way out, it's a nonetheless sturdy and reliable large crate.
Pros
Sturdily built
Includes plastic pan and divider
Cons
Not big enough for jumbo-sized dogs
Strong jaws can bend the bars
Luckup Heavy Duty Dog Crate, Strong Metal Kennel and Crate for Large Dogs, Easy to Assemble with Four Wheels
For canines intent on freedom but lacking the the restraint to be trusted around those chewy-looking pillows, this heavy-duty dog crate from Luckup will help train them that not all bars are meant to be broken.
Large dogs can be surprisingly tame and self-disciplined, yet there are always those special cases that need freedom. And while we'd love to grant every dog the freedom they crave, it takes training and time for our canine friends to figure out the boundaries of this fast-paced world. Thus, Luckup has engineered a dog crate built to contain even the wiliest of dogs. With corrosion-resistant steel bars, three durable locking latches, and bolted siding, this crate wins our Houdini-proof certification. And if the 42-inch version isn't enough wiggle room, Luckup offers 46-inch and 48-inch models as well. Our favorite feature? It comes with four easy-to-attach wheels that make moving this heavy crate around a breeze.
Pros
5-Minute assembly
Exterior pee pans
Escape-proof
Cons
Doesn't collapse for storage
MidWest Homes for Pets XXL Giant Dog Crate, 54-Inches Long, Ginormous Crate
Adding a couple extra "extras" to the size, this XXL dog crate from MidWest Homes for Pets can accommodate dogs the size of small ponies.
Ginormous dogs need ginormous quarters. We're talking about the Great Danes, Saint Bernards, Newfoundlands, and all their mix-and-matched offspring. These heavy-footed fellows would find the standard "large" size crates, which are generally 42-inches in length, too cramped and claustrophobic. That's why we recommend MidWest Homes for Pets' XXL to dog owners that want the best for their big-boned friends. It's a fantastic crate from a fantastic company and comes with an option for a second door. Not only is the 54 inches of length adequate for giant dogs, but it also features 45 inches of headroom and 37 inches of width. With so much space, you might even want to consider this "ginormous" option for your smaller dogs, since a puppy can turn this spacious crate into a secure playpen.
Pros
Rust-resistance wiring
Double doors
Trusted company
Cons
Assembly requires two people
MidWest iCrate Starter Kit, Includes a Dog Crate, Dog Crate Cover, 2 Dog Bowls & Pet Bed
The iCrate Starter Kit comes with hanging dog bowls, a fitted bed, and a nighttime cover, so your large dog can live in luxury.
MidWest makes it onto our list yet again, this time with their iCrate Starter Kit. It includes two hanging pet bowls, a black shade cover, and a fitted bed. The bowls snap to the sides of the crate for a mess-free mealtime experience and the bed is machine-washable and well-cushioned. Even the shade cover is an unexpected luxury, as it helps nervous dogs calm down. Thus, these accessories are essential, and buying them separately can cost even more moola. As Midwest proves, sometimes the premium pick is actually a bargain in disguise.
Pros
Sturdy, foldable crate
Bowls attach to the door
The soft bed is machine-washable
Cons
Frequently Asked Questions
What size crate should I get for my plus-sized dog?
The crates that we've listed above are all 42 inches in length or more. Generally speaking, 42-inch crates are recommended for dogs that are between 70 and 90 pounds in weight. If your dog is between 90 and 110 pounds, you're going to want to go a bit larger and elect for the 48-inch crates. And if your dog is super-sized, we recommend our Extra Large pick, the 54-inch MidWest Crate for Ginormous Dogs.
That being said, if you're unsure of which size to get in terms of dog crates, bigger is usually better. Cramped conditions for dogs can lead to distress, so some wiggle room is preferable.
What should I do if my dog has separation anxiety?
Separation anxiety affects many dogs and may not have a single, identifiable cause. In coping with this doggy disorder, crating your dog when you leave may save the furniture, the pillows, and even the health of your pupper. There are several important strategies for training your dog to overcome their separation anxiety. When it comes to crates, never respond to banging, whining, or barking when they're locked up. Although it may seem cruel, the idea is to focus on disassociating panicked behavior with the promise of freedom.
Particularly distressed dogs will need positive reinforcement strategies and expert training. In such cases, we urge dog owners to conduct their own research and consider getting the help of a professional.