The Best Dog Stairs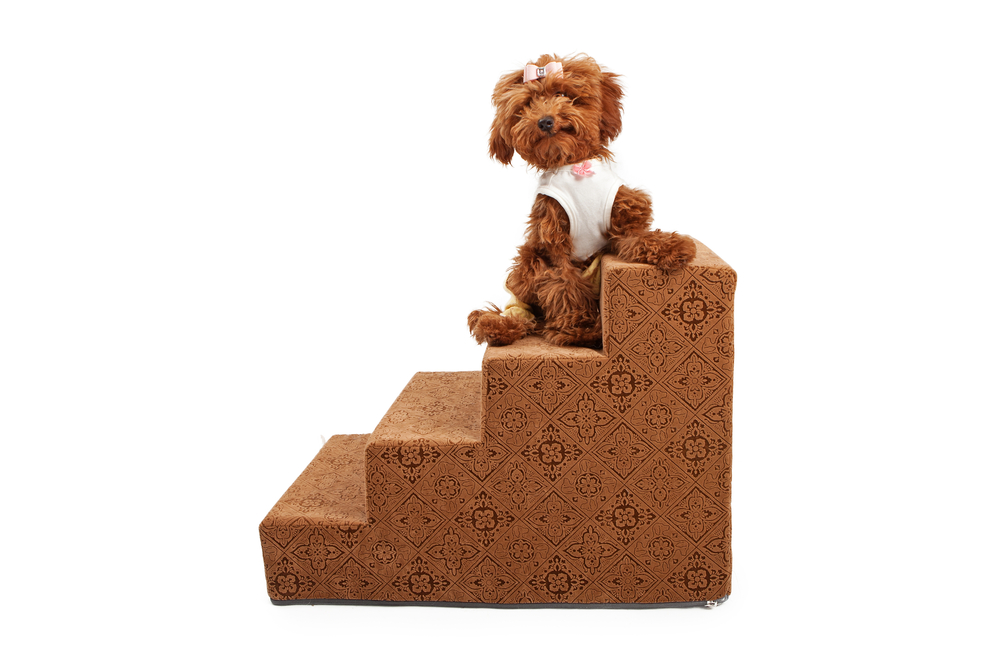 You want your dog to join you on the couch or in bed or in the car. The problem is that they may not be able to climb up or get down, safely. It may be because they're too small, too old, or both. Even if your dog can climb up, jumping off puts a lot of stress on their joints that can lead to arthritis. The solution is dog stairs. Dog stairs are a little portable set of stairs that are specially designed to help a dog climb up and down from higher surfaces. There are many different options when it comes to dog stairs. Some are bigger than others, some are softer than others, and some are sturdier than others. You want to make sure they will support your dog safely and are easy and comfortable for them to use. Read on for our reviews of the best dog stairs.
Best Pet Supplies

Pet Steps
With a variety of sizes and styles to choose from, these dog stairs made with CertiPUR-US Certified foam are a great choice.
For a variety of size and color options, check out these dog stairs from Best Pet Supplies. They come in a 3-step 13.5-inch size, a 4-step 18-inch size, and a 5-step 22.5-inch size, so you can choose just the right size for your dog and your intended destination. With 4 colors and 8 patterns to choose from, you can find the look that best matches the interior design of your house. Made with mattress-grade foam, these stairs are comfortable and supportive of your dogs. The foam is CertiPUR-US Certified, so it contains no harmful ingredients that could hurt your dog.
Pros
Variety of sizes, colors, and patterns
Mattress-grade,

CertiPUR-US Certified

 foam
Cons
Not as good for bigger dogs
PetSafe CozyUp Folding Pet Steps
Compact, convenient, and cute. What more could you want from a foldable set of stairs?
You wouldn't be the first person to balk at the idea of buying pet stairs because of how bulky and unsightly they can be. Who wants to go through the arduous process of decorating an entire home, only to then place an unsightly pair of doggie-stairs next to that big-ticket couch? With the fold-up set of stairs from PetSafe, you don't have to worry about that. With its carpeted stairs for added grip, its raised rails for security (which is great for elderly pooches with bad eyesight or wobbly limbs), and rubber feet to help keep it stable, these stairs offer the ultimate in terms of convenience. Set them up when you want to, and then fold them down and stow them away when you don't need them. They're especially useful to use at night for those of us with pooches who insist on sleeping in bed with us. Come bed-time, set the stairs up next to the bed frame, and in the morning, once you and Buster have gotten out of bed and started the day, fold the stairs away. Easy peasy.
Pros
Large weight limit (200 lb) means it's strong enough for almost any dog
Lightweight, so it's easy to move from place to place
Cons
Grip isn't as effective on bare floors
Furhaven Pet – Steady Paws Furniture Assist Multi-Step
This is the perfect set of stairs for smaller pooches.
Have a little pup who's a bit too timid to hop onto that window-facing couch? Or maybe Mimi's gotten a bit too old to rely on her legs to have the strength to make that glorious leap. Whatever the reason, if you're looking for a pair of stairs for a smaller pooch, this one from Furhaven is a great bet. Lined with plush faux fur, this 3-step unit has its stairs placed closely together so that canines of the smaller persuasion can climb it without struggling. The company is highly trusted in the pet world, so you can rest assured that a strong industry name is behind this product.
Pros
Also available in a 4-step configuration for those looking to reach a higher perch
The color options that are available are beautiful
Also works excellently for cats
Cons
Not the most stable option, so you might want to lean it against some sort of support to ensure it doesn't wobble
Petmaker Folding Plastic Pet Stairs
These wide, deep stairs provide excellent support for dogs big and small.
For steps that you can use outdoors, pick up these stellar dog stairs from Petmaker. They are made of hard plastic that will last. At 19 inches in height, you can use this set on the street or driveway to help your dog get into your car. They fold up quickly and easily; they don't take up much space when they're folded so you can toss them in the trunk and take them with you. These stairs were clearly built with dog's safety in mind. There is a snap lock that keeps them from folding when your dog is on them. The felt step covers keep your dog from slipping, and the safety rails along the sides prevent your dog from falling off. There are non-slip foam pads on the bottom which keep the stairs from sliding; they also protect your floors from getting scratched if you're using them inside. Easy to clean with a damp cloth, these stairs are effective anywhere.
Pros
Hard plastic good for outdoor use
Foldable for travel
Safety rail
Cons
Less aesthetically pleasing for indoor decor
Pet Gear Easy Step II Pet Stairs
These hard plastic stairs dog stairs are a versatile and safe option for helping your dog get to higher places.
These are an excellent set of dog stairs from Pet Gear. These stairs snap together so easily you won't even need the instructions. There are two wide, big steps. For smaller dogs, their whole bodies can fit on each step. Bigger dogs can zoom right up them with sturdy support underneath them. These steps cover more height – 16 inches – than you would expect from two steps because each step is on an incline so the end of the step is higher than the beginning. This may be preferable to more steps because the less steps, the less stress on your dog's body. The carpet tread on the steps provides traction and comfort for your dog and is easily removable and washable for simple cleaning. You can't go wrong with these dog stairs.
Pros
Wide, deep stairs
Removable, washable carpet tread
Cons
The light weight of the stairs makes some dogs apprehensive even though they are sturdy
Frequently Asked Questions
How do I get my dog to use dog stairs for the first time?
If your dog is reluctant to use dog stairs, lift up their paws and guide them up the stairs. Pick them up and put them on the top stair. Then reward them with a treat. The main thing is showing them that they can trust the stairs to hold their weight. Because dog stairs are lightweight, some dogs are suspicious at first that the stairs won't be able to hold them.
Can I use dog stairs for other pets?
Yes, you can use dog stairs for other pets that fit within the size and weight limits of the stairs. Cats, of course, are the most common other pet besides dogs, and any of these stairs would work great for cats.
Will the stairs hold my dog?
Please check the product page for weight limits, as each stair has a different limit. The stairs we reviewed had a range of 100 to 150 pounds for their weight limits.